McBride was a series of mystery movies produced by Hallmark Entertainment beginning in 2005 and ending in 2008. McBride, played by Emmy-award winning actor John Larroquette, is an attorney whose specialty is defending hard-luck or unusual cases. For the purposes of the series, the cases usually involve murder, although the episodes almost always open with McBride working another case that can involve a crime other than murder. The films are a pleasant throwback to the 1970s NBC Mystery Movie series in style, and include a unique flashback device used several times in each episode. When McBride interrogates his client, witnesses, or suspects, a flashback of an event, or an interpretation of what happened as imagined by McBride or a falsehood that the person being interrogated is trying to put over on him, is portrayed, filmed with the color saturation lowered so that most of the scene appears as if it's in black and white with scattered highlights of color, usually blue, red and brown, and McBride appears within the flashback, continuing the questioning as the scene proceeds.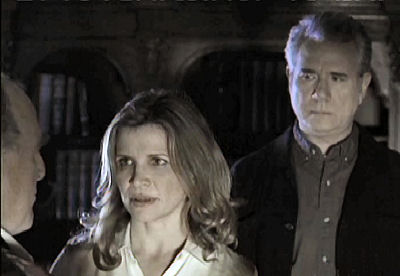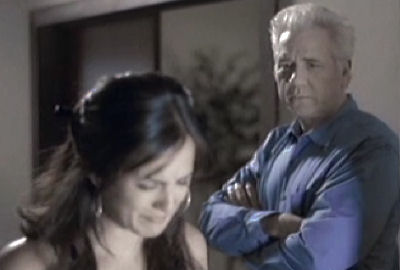 McBride was created by Dean Chambers. Four films were broadcast in 2005, one in 2006, two in 2007, and, so far, one in 2008.
Although The Chameleon Murder was broadcast first, Murder After Midnight is evidently the pilot for the series and provides the setup for the remainder of the episodes. McBride has been given a run-down country property in lieu of a fee from a client named McNab, who lied to McBride about killing his wife and has been sent to prison. McBride keeps on the present caretaker, an affable rancher named Russell who appears in the first few movies, and has him clean up the property and attempt to improve it. He also inherits a large white collie-like dog named Jesse. At the same time, McBride serves as a juror at a murder trial in which the public defender is a young attorney named Phil Newberry (the trial is Phil's first "big" trial; he usually defends DUIs and minor juvenile cases), and McBride's lone dissenting presence results in the jury being "hung" and a mistrial declared. Newberry has followed some of McBride's cases and deeply admires him, so he quits his job as public defender and talks McBride into hiring him. He brings McBride's battered office into the 21st century by installing a surveillance system, computers, answering machines, and other gadgets with McBride initially distrusts (he claims he still has trouble with voicemail), but then comes to grudgingly admire.
McBride's office is in a nondescript six-story office building, number 229. A shop selling "Professional Uniforms" is on the ground floor and above the door it says "Professional Building." There's a restaurant or bar named Clancy's Crab Broiler to one side of the building, and row of shops on the other side, one of which is a Century21 Realty. (Although the street name is never given, Clancy's is an actual restaurant, which places the building at 229 North Central Avenue, Glendale, CA.) It is an open office with a small enclosed conference room. It's evident McBride spends much time at his office, since there is a refrigerator and food storage in the rear near his desk. There's also a pinball machine, a dart board, a slot machine, a very nice ancient map of the world behind Mac's desk (along with some souvenir police photos), and Phil's stereo. McBride drives a barn-red Jeep Wrangler (later drives a silver extended cab Dodge pickup truck), and Phil drives a low-slung blue (sometimes silver) Chevrolet Crossfire.
§
The Cast
Mike "Mac" McBride: John Larroquette
Phil Newberry: Matt Lutz
Detective Roberta Hansen: Marta Dubois
Jesse: Kuma Von Clifford
Russell: David Atkinson (first few movies only)
§
The Characters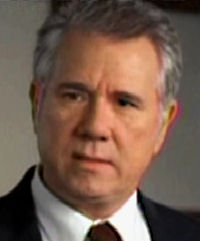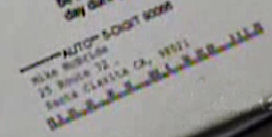 Mike "Mac" McBride— A former police detective who served for twelve years. Eight years before Murder Past Midnight takes place, he suffered a serious injury (which almost took his life) in the line of duty, quit the police force and attended law school. While he has tried some high-profile murder cases, he is known as a lawyer who takes on pro bono work, and has a soft spot for lost causes and cases that might otherwise go unresolved. He also has a small reputation for courtroom "theatrics" and often finds himself in contention with the judge. Mac is in his late fifties, still pretty fit (judging by his climbing up a tree and into a balcony in the pilot movie!), but needs glasses to read. He is involved romantically (off-and-on) with Detective Roberta Hansen.
Incidentally, John Larroquette wanted McBride to go without a first name, like the lead character in another Dean Chambers series, Columbo, and even resisted the first initial placed on McBride's nameplate and office door. However, in Murder Past Midnight, a brief glimpse of his jury summons is shown, with his first name clearly shown as "Mike." His friends call him "Mac."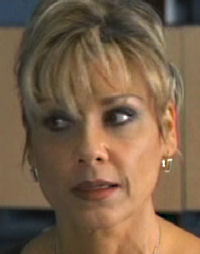 Detective Roberta Hansen— A senior police detective and former co-worker of McBride's. She is dedicated to her work, businesslike, no-nonsense and tough—but when she's not locking horns with McBride she's often doing him a favor or even steering clients his way. Judging by the kiss McBride gives her in Murder After Midnight and her comment to Phil later on: "Don't get me wrong, when he's good, he's good..." [broad grin] "...real good," her relationship with Mac hasn't been celibate. On the other hand, Mac's offhand attitude to the relationship bothers her: "That depends on what day you're talking about. Monday we're pals, by Wednesday we're going to Hawaii for a hot weekend, by Friday who knows where we are—usually not Hawaii." Roberta is slightly younger than Mac, trim and fit for the rigors of her job. She occasionally dates others, but there's definitely a spark for Mac there.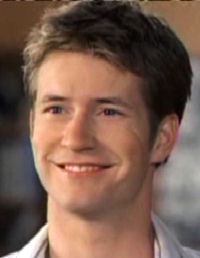 Phil Newberry— A young lawyer who started out in the public defender's office, but who quit the job and went to work for McBride, who cautioned him that there was usually not enough money to pay himself. Phil admits he didn't become a lawyer for the money; he has a trust fund. His parents are quite wealthy and give monetary support to many charities and public works, including the local symphony orchestra. Phil is a bright, handsome, personable young man in his late 20s, not at all spoiled by his privileged upbringing, with a penchant for electronic gadgets. He introduces himself to McBride by installing a motion detector in his office, and, once hired, stocks the office with the latest computers, an internet connection, a state-of-the-art coffee maker, a stereo system, a digital camera and more. McBride, a bit of a technophobe, warms to the new gadgets the moment he realizes how quickly Phil can find information for him that will help with his cases.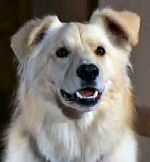 Jesse— A white, collie-like dog McBride inherits when he is given a country home in lieu of a fee. Mac originally took him to an animal shelter to be adopted, but kept tabs on the dog, and when he found out they had been unable to rehome him and were going to euthanize him, he adopted Jesse himself. Jesse spends a lot of time sleeping in the corner of the office where he has a dog bed, some toys, and a feeding area. He doesn't do anything like save McBride's life; he's just a dog, although occasionally he gets a few screen minutes for doing something cute. (According to Hallmark's website, Kuma, who plays Jesse, is a Labrador/Husky cross. He looks mostly like a collie.)
§
The Films
The Chameleon Murder
• First aired January 14, 2005
• Writer: Jeff Peters
• Director: Kevin Connor
• Dudley Banks, a young man who works at a hospital with elderly patients, is given a ride home from a sporting event by a svelte blonde woman who is carrying a huge roll of money in her purse. Later someone breaks into his home, leaving the woman's purse in his living room, and the woman, Whitney Collier, is found dead in her car at the side of the road—he is therefore arrested for the crime. Dudley's co-worker, the doctor who saved McBride eight years earlier when he was injured in the line of duty, asks McBride to defend him. While McBride discovers the victim's real-estate mogul husband was a womanizer, Phil makes an amazing discovery in her hotel room: Whitney had a second identity, and was married to a man possibly connected to organized crime.
• Cast: Russell: David Atkinson. Whitney Collier/Monica Karpek: Maeve Quinlan. Dudley Banks: Devon Gummersall. Hanson Collier: Steven Brand. Vincent Karpek: Robert Maffia. Jerome Harris: Bruce Nozick. Det. Jake "Fitz" Fitzsimmons: Dirk Blocker. Dr. Megan Ward: Annie Larussa. Asst. Dstrict Attorney Brad Leyton: Daryl Anderson. Forensic Specialist Francis Phillips: Mike Baldridge. Wayne Ferguson: John Bishop. Dr. Clarence Hightower: Terrence Beasor. Chelsea Robertson: Justine Brandy. FBI Agent Kimball: Stephen W. Bridgewater. FBI Agent Frankel: Frank Crim. Abigail Kramer: Vanessa Evigan. Garth Lassiter: George Fisher. Judge Bigelow: Bill Henderson. Scientist: Wendy Horton. Hotel Clerk: Brandy Howard. Mr. Bernard: Marvin Kaplan. Elwood Fairbanks: Bob Larkin. Mrs. Chen: June Kyoko Lu. Woodrow Bannister: Beans Morrocco. Donnie Walden: Jeffrey Muller. Jerome Harris: Bruce Nozick. Dock Worker: Robert Reece. Judge Charlotte Cahill: Irene Roseen. Car Rental Clerk: Natalie Roth Dube. Steven: John Valdetero. Jury Foreman: Joyce Westergard. Orderly: Charles Bice-Bey. And Kuma as Jesse.
• The Other Case: McBride is defending a homeless man who is accused of killing an elderly woman. The woman's African grey parrot, Shirley, proves that the woman's nephew actually killed her by repeating "Don't hurt me, don't hurt me" when the nephew approaches her.
• The House: Russell discovers the porch of the ranch house has termites.
• Trivia: Jake "Fitz" Fitzsimmons, the detective handling Dudley's case, is McBride's former partner. He's forever into get-rich schemes; at the moment it's vitamins. Dudley is employed at Sacred Cross Medical Center. Chen's is McBride's favorite restaurant; he keeps trying to take Roberta there, but she demurs, leading him to believe she hates Chinese food. It's actually because she considers Mandarin cuisine bland; she joins him when she finds out Chen's also serves Szechuan, which Mac tries for the first time with fiery results. Roberta can speak Chinese. Daryl Anderson, once "Animal" on Lou Grant, is the district attorney in these first two episodes.
• Whodunnit (highlight the line to see the spoiler): Fitz. He was blackmailing Whitney/Monica, but she was planning to expose him.
Murder Past Midnight
• First aired February 4, 2005
• Writer: Dean Hargrove
• Director: Kevin Connor
• Claire Harriman, a young, attractive, former cocktail waitress whose older husband is in a coma from a dose of phenobarbitol allegedly given to him in a glass of milk, is arrested for the crime. Inexperienced public defender Phil Newberry is assigned to defend her, and on the jury is former police detective and now attorney Mike McBride, who is the lone holdout to convict her. A mistrial is declared and McBride ends up defending the woman. But if Claire Harriman didn't slip her husband the overdose, who did—the callous son? the spendthrift daughter? the mysterious guy from the trailer park? Or is it someone McBride doesn't know about yet?
• Cast: Russell: David Atkinson. Assistant District Attorney Brad Leyton: Daryl Anderson. Claire Harriman: Paula Trickey. Carl Harriman Sr: Tom Howard. Tony Harriman: William McNamara. Emily Harriman: Jaime Ray Newman. Marta Arnack: Dana Barron. Elena Ashfeld: Diane Robin. Lorenzo Larson: J. Michael Flynn. Jerry Spatz: Salvator Xuereb. Jury Foreman: John Achorn. Asst. Karen: Kelly Crean. Miriam: Jennifer Echols. Wingy: Dave Florek. Phyllis: Amy Higgins. Beau Billingslea: David Johnson. Judge Levers: Casey Kramer. Jury Forewoman: Anna Mathias. Dr. Reginald Berman: Rod McCary. Erik the Workman: Beans Morocco. Tom Manning: Corin Nemec. Vincent: Marty Papazian. Nurse Ellen Wilson: Diane Sellers. Sonny: Jim Cody Williams. Detective Charles Brenner: Cass Asher. Homicide Detective: Tom Kiesche. Taylor: Ken Weiler. And Kuma as Jesse.
• The House: McBride sees his new property for the first time, which consists of a house, a corral with a horse, and a lot of discarded junk. He asks Russell if he will stay on and clean up the place, bring some painters in, and generally make the house habitable.
• Trivia: McBride's address is listed as 25 Route 72, Santa Clarita, CA. He's due for jury duty the week of April 18, 2004. Mac is juror 232. McBride calls Phil "Grasshopper," a humorous reference to the 1970s Kung Fu series, when he hires him. McBride knows Vincent from his police work.
• Puzzlers: It's clearly shown that Harriman is at Sacred Cross Medical Center (the same place Dwayne works in "Chameleon Murder"), but Roberta tells the family he's being sent to City of Angels. Also, when Mac finds Phil in his office setting up the motion detector, Phil states "the super told me about your break in." Er? What break in?
• Whodunnit (highlight the line to see the spoiler): Marta; although it is never proved, suspicions point to her being under the thumb of Tony Harriman.
It's Murder, Madam
• First aired March 4, 2005
• Writer: Jeff Peters
• Director: Kevin Connor
• Innocent Marilyn Fletcher, fresh from Omaha, Nebraska, arrives at the home of Heather Bronson, who helped her best friend Natalie find work when she first arrived in Los Angeles. Unfortunately, Marilyn realizes after having dinner with an amorous "lonely widower" that Heather is in the business of setting up call girls, and when she returns to Heather's home to confront her about it, she is caught alone with Heather's dead body. Roberta calls Mac in to help her, knowing Marilyn couldn't possibly have killed anyone, and he and Phil discover that Heather was blackmailing at least three people—is one of them her killer?
• Cast: Russell: David Atkinson. Heather Bronson: Sarah G. Buxton. Victoria Sawyer: Linda Gray. Marilyn Fletcher: Claire Coffee. Harold Paxton: Joel Polis. District Attorney Norman Collins: Paul Norwood. Assistant District Attorney Barnes: Al Woodley. Judge Broderick: Kathryn Joosten. Mayor Joseph Theodore: James McCauley. Lorraine Theodore: Tamara Mark. Officer Taylor: Ken Weiler. Jorge: Christopher Maleki. Luis Martinez: Diego Serrano. Escobar: Winston G. Rocha. Becky Sullivan: Lindsay Hollister. Chad Foster: Tom Brainard. Nick: John Thaddeus. Public Defender Calvin Grimes: Rob Steiner. Stephan: Jeffrey Marcus. Desk Sergeant: Neil Goldber. Police Officer: Frank Sharp. Lawyer: Frank Ashmore. Doris Stockman: Marcy Goldman. Manager: David Carpenter. Jury Foreman: Eugene M. Davis. Forensics Officer: Louanne Sirota. Helen: Carol Ann Susi. Female Newscaster: Jean Carol. Brian: Stephen Ramsey. Mr. Sinclair: Nicholas Guest. Judge Daly: Monnae Michaell. Assistant District Attorney: Jeff Harlan. Assistant District Attorney: Annette Cheri. FBI Agent: William O. Heaton. And Kuma as Jesse.
• The Other Case: A young man has been accused by a passerby to the incident of striking and killing a security guard. The passerby definitely identifies McBride's client as being the perpetrator—except it's Phil dressed up in the client's clothes.
• The House: Russell has Jesse retrieving sticks (and he's putting them in a pile).
• Trivia: Mac is a fan of the Lancaster Jet Hawks. Later in the film Roberta reveals she is dating Norman Collins, the district attorney, to Mac's dismay.
• Puzzlers: The police officer who arrests Marilyn says "a neighbor said she heard a scream" but when he testifies, he says he was on patrol and he heard the scream. Incidentally, did you ever wonder what happened to Marilyn's friend, Natalie? Marilyn tells Heather that the last time she heard from Natalie, she was traveling to Japan with a wealthy businessman. That was six months earlier. Doesn't it hint at foul play?
• Whodunnit (highlight the line to see the spoiler): Victoria. She was Heather's secret partner, and Heather was blackmailing her.
The Doctor Is Out... Really Out
• First aired June 12, 2005
• Writer: Jeff Peters
• Director: John Larroquette
• McBride agrees to represent his rather hapless accountant, Harry Evans, trapped in a very vindictive divorce case, in family court, where Harry is sure his psychiatrist George Prescott will help him obtain visitation rights with his eight-year-old son, Danny, but instead Prescott testifies that Harry is unstable and total custody is awarded to his ex-wife Marian. Later Harry visits Prescott, threatening to shoot himself, but the man just sits unresponding as Harry rants and waves a gun. Harry trips, accidentally firing a bullet into Prescott, and frantically calls McBride, thinking he has killed the doctor. McBride sends Harry home and reports the shooting to Roberta (not mentioning Harry's name), but when she and the police arrive, the body is gone, with McBride suspecting Prescott was already dead when Harry shot him. Roberta finds out a glass on Prescott's desk has traces of monocane, a poison that dissipates in the body within 36 hours, while Phil investigates a body that supposedly arrived at St. Sebastian's Hospital, then disappeared.
• Cast: Russell: David Atkinson. Harry Evans: Stephen Tobolowsky. Jessica Tyler: Gigi Rice. Dr. George Prescott: Richard Fancy. Allen Carter: Seamus Dever. Dr. Daphne Blake: Sydney Penny. Ted Pearson: Todd Babcock. Dr. Leo Eckhart: David Bowe. Jacob: Tim Conlon. Receptionist: Anita Dashiell. E.R. Doctor: Keno Deary. Neighbor: Charlie Dell. Victor Hancock: John O'Brien. Officer Johnson: William Flannery. Mrs. Kerr: Carole Goldman. Lois: Susan Grace. Morgue Attendant: Joshua Harto. Franklin: John Ingle. Medical Examiner: Jim Ishida. Judge Tomlins: Charles Kahlenberg. Judge Olson: Danielle Kennedy. Nurse Williams: Karen Kondazian. Stenographer: Bridget McGuire. District Attorney Norman Collins: Paul Norwood. Alex: Jack Riley. And Kuma as Jesse.
• The Other Case: Harry's custody hearing.
• The House: McBride is having a dog run built for Jesse at a cost of $400.00.
• Trivia: Harry has known McBride for 25 years. In the hospital, Prescott's body is hidden under the name "Warren Ziegler," the man who helped start the Peace Corps.
• Whodunnit (highlight the line to see the spoiler): Jessica. Prescott was going to reveal that she was having an affair with a patient.
Tune In for Murder
• First aired August 7, 2005
• Writer: Jeff Peters
• Director: Stephen W. Bridgewater
• Ron and Bob are popular morning "drive time" talk-show hosts at radio station KTMB, with Ron Garrison being the "shock jock" with his partner Bob Carter as the more amiable part of the team. After Bob finds out Ron is negotiating a solo contract, and after he makes what sounds like veiled threats against his partner, he is the prime suspect when Ron is shot and Bob is found at Ron's house, ostensibly having been called there for a meeting. Not only that, but Ron apparently made a 911 call reporting that Bob was threatening him. McBride is called in by the station's lawyers. If that wasn't enough of a conundrum, who's the mysterious "Patti" Phil keeps running into?
• Cast: Ron Garrison: Frazer Smith. Bob Carter: John Kapelos. Paul Belsen: Jack Conley. Armen: Art LaFleur. Kyle Ward: Wren T. Brown. Danny Doyle: John Kassir. Leslie Summers: Bridget Ann White. Ed Harding: Victor McCay. Patti: Veronica Lauren. District Attorney Wade Tracy: Tony Pasqualini. Dr. Charles Green: Steve Larkin. Don: John Lawlor. Uniformed Police: Clint Lilley. Judge Daly: Monnae Michaell. Nate: Ingo Neuhaus. Wilson: John Rosenfeld. Sinclair: Christie Lynn Smith. Judge Gross: James T. Callahan. Mr. Fallon: Kirk B.R. Woller. Mrs. Chambers: Anne Bellamy. And Kuma as Jesse.
• The Other Case: McBride is defending an elderly woman who was accosted by a store security guard who thought she was shoplifting; frightened, she turned around and hit him with her cane, breaking his nose. (He claims her "assault" has cost him his acting "career," although he's worked full time at the store for three years.) He actually accosted the wrong woman.
• The House: Russell (unseen) is painting the house and the smell has driven Mac to a hotel, so evidently McBride has begun living at the ranch. Jesse is restless at the hotel and keeps Mac awake, so Roberta offers to keep him. Mac cooks her dinner, including what sounds like a down-home Louisiana feast (John Larroquette is originally from New Orleans), as payment.
• Trivia: KTMB is frequency 109.9 and their weekday schedule is Ron and Bob from 6 to 10, Rush Limbaugh syndicated 10 through 2. Ed Harding, afternoon talk 2-6. Leslie Summers, romantic advice from 7-9, following a news hour. Kyle Ward has sports talk 9-midnight. Danny Doyle does an Art Bell-like talk show midnight to 6 a.m. McBride is a sports fan; he's quite well-versed in baseball as well as football. Roberta's favorite wine is cabernet—and she also knows more sports trivia than Kyle Ward.
• Puzzlers: The taped 911 call sounded pretty fake. I'm surprised the police take it seriously.
• Whodunnit (highlight the line to see the spoiler): Kyle. Ron was blackmailing him due to a purposely fumbled pass in a football game that Ron bet heavily on.
Anybody Here Murder Marty?
• First aired August 28, 2005
• Writers: Nicholas Hicks-Beach, Shelley Miller
• Director: James A. Contner
• Joseph Devine unexpectedly proposes to his girlfriend Tracy, an aspiring singer, when they both appear on a tell-all television series hosted by abrasive, exploitative Marty Caine. But Tracy has brought him on the show to tell him she's been dating his friend Eddie. Joe returns to confront Marty backstage and finds him bludgeoned to death, and, running away, stumbles through Marty's 10th anniversary party with the man's blood on him. Mac and Phil overhear the news report and Mac remembers Joe as a former client whom they wrote a record contract for, so that his girlfriend could cut a demo, and decides to take the case. Marty's case is so high-profile that Mac and Phil are forced to hire a temp receptionist, the efficient Eugenie Underwood, to handle the phone calls.
• Cast: Joseph Devine: Silas Weir Mitchell. Tracy Ann Kennicot: Nikita Ager. Marty Caine: Jack Scalia. Becky Tranter: Lisa Brenner. Eddie: Christopher Allen Nelson. Arnie Wilson: Sam McMurray. Victoria Caine: Dana Wheeler-Nicholson. Detective Marsh: Eric Lange. Gina Carson: Lacey Toups. Eugenie Underwood: Liz Torres. Aaron: Brian Bloom. Ned: Seth Romatelli. Judge Daly: Monnae Michaell. Detective King: Steven Barr. Mo Feldstein: Harold Gould. District Attorney Kendall: Carlos Cervantes. District Attorney Travis: Tom Everett. Security Guard: John Hateley. Girl #1: Grace Levinson. Girl #2: Shannon Levinson. Judge Crawford: Stephen Mendel. Reporter: Julianna Robinson. And Kuma as Jesse.
• The Other Case: McBride's client Mo Feldstein, a former counterfeiter, has been arrested for making counterfeit bills; incriminating plates were found in his house. Mac reveals that the plates were made by Feldstein for a movie and did not correspond to counterfeit money confiscated in Glendale. Later in this story an aspect of this other case comes in handy for McBride.
• Trivia: Phil replies to a comment about his suit that it's his father's, who is dead, but in a later movie he mentions both his parents. Was he just joking? He's "more of an R&B guy" in music tastes. Phil has bought the office a new coffee maker, but it's Eugenie who shows them how to use it properly. Jesse likes Animal Planet. :-) Liz Torres, who plays Eugenia, co-starred with John Larroquette on Night Court. Look, product placement: Panda Express!
• Whodunnit (highlight the line to see the spoiler): Becky. Her father, Eddie Trantor, a producer, and Marty used to work together and something Marty said to her father made him commit suicide. (Which is a bit painful since it looked like Phil was starting to like her.)
Fallen Idol
• First aired March 11, 2006
• Writers: Jeff Peters, Brian Clemens
• Director: John Larroquette
• Mac's legal mentor Grayson Franks is murdered, presumably for his wallet and Rolex watch; later, a young Latino man, Juan Labell, who works in a small motorcycle shop in the Simi Valley, is caught trying to pawn the watch. He claims he found it thrown away on the street. Juan's sister, an old friend of Phil's, comes to the office asking if they will help him. Reluctantly Mac takes the case and learns that Franks wasn't quite the man he thought he was; for one, he was cheating on his wife for most of the time they were married. could that have given someone a motive to murder him?
• Cast: Grayson Franks: Madison Mason. Tracy Franks: Cindy Pickett. Dean Franks: Brian McGovern. Rochelle Franks: Melissa Keller. Kathy Brown: Delaine Yates. Juan Lobell: Michael Esparza. Maree Lobell: Dianna Miranda. Marco Delgado: Anthony Pertesis. District Attorney Travis: Tom Everett. Judge O'Hara: Connie Cooper. Banley's Dress Boutique saleswoman: Sumalee Montano. Judge Cooksey: Alan Fudge. Pawn Shop Owner: Larry Gelman. Pancho: Isait de la Fuente. Gail Stanton: Susan Pari. And Kuma as Jesse.
• The Other Case: Is actually being concluded by Grayson Franks, who cites an hours-old precident by the Supreme Court to get his client released.
• Trivia: Grayson Franks was McBride's mentor when he decided to quit the police force and helped him when he ran into problems. He questioned McBride once on the stand, and, as Mac puts it, "I would have rather gone to the dentist." Mac refers to him as a "stealth bomber in a suit." Phil's childhood ambition was to become a ballet dancer. Maree's mother was the Newberry family housekeeper. Catch the product placement again: Jesse eats Beniful from Purina (at the time Kuma was doing a Beniful commercial) and Phil and Mac are eating Panda Express.
• Whodunnit (highlight the line to see the spoiler): Dean. He found out Dad was having an affair with his wife.
Semper Fi
• First aired January 1, 2007
• Writers: Rachel Stuhler, Jamie Latta
• Director: John Larroquette.
• Tom Mitchell, a paramedic and also a Marine recently returned from Afghanistan and scheduled to go back to the Persian Gulf, and his wife Sue are attacked in their home. Sue dies from her stab wounds, and police assemble enough evidence to accuse Tom of the crime. Tom's older sister Claire, an IAD psychiatrist, asks McBride to represent him. This causes additional friction as, back when Mac was still on the police force, a police informant accused Roberta of taking a bribe. Claire determined that Roberta was capabable of taking bribes. Roberta was cleared when the informant confessed to lying, but has hated Claire ever since. Since Tom's past is appearing spotty, including an affair with a young woman named Kaia Rourke, and unexpected income and spending, McBride has his work cut out for him. But there are inconsistencies in the case even Roberta can't ignore.
• Cast: Thomas Mitchell: Liam Waite. Susan Mitchell: Miranda Gibson. Claire Mitchell: Barbara Niven. General Dwight Rourke: Ben Murphy. Kaia Rourke: Katie Walder. Glynis Jackson: Esther Scott. Lieutenant Pete McCay: Michael Whaley. Receptionist Rachel: Danica Stewart. Officer Colin Pierce: Nicholas Turturro. Judge Daly: Monnae Michaell. Forensics Specialist Francis Phillips: Mike Baldridge. District Attorney Arnold Sullivan: Jeff Harlan. Court Spectator: Jeran Pascascio. Reporter: Julianna Robinson. Mr. Jamison: Brock Cuchna. Kevin Moore: Marcus Brown. Mr. Gilmore: Joe Holt. And Kuma as Jesse.
• The Other Case: McBride is defending Kevin Moore, a basketball star who is being sued for several million dollars by a man who had accosted him in a bar for an autograph. The man claims Moore struck him in the face, causing a painful injury. McBride proves that the man left the bar uninjured and concocted the assault to get even with Moore for snubbing him.
• Trivia: There is still a bit of a spark between Claire and Mac, which Roberta very clearly dislikes. Tom is a fourth generation paramedic. It's Roberta who provides the essential clue.
• Whodunnit (highlight the line to see the spoiler): Officer Pierce. He was part of a drug-selling ring, along with Tom and Kaia. That's where Tom's extra money was coming from.
Dogged
• First aired March 10, 2007
• Writer: Shelley Miller, Nicholas Hicks-Beach
• Director: John Larroquette
• Laurie Carter's day of triumph when her Golden Retriever Captain wins Best in Show at a local kennel club meeting is quickly extinguished when she is arrested for shooting her former lover, a married man whose wife, who is not only bitter about the affair but is jealous over Laurie's dog having won the show, is confined to a wheelchair after an accident. A text message shows clearly that Laurie lured the man into the corridor—or does it? And why did Laurie, disguised in a wig, clearly make herself seen on a surveillance camera?
• Cast: Laurie Carter: Samantha Smith. Barry Hastings: Jon Lindstrom. Sarah Sinclair: Joanna Going. Frank Sinclair: Richard Lineback. Judy Maxwell: Michele Greene. Michael Whyte: James Wilder. Debbie: Brook Kerr. Iris: Nicole Gabriella Scipione. Chairman: Ron Ross. Dr. Gordon: Tom Hallick. Linda Hall: Debra Sullivan. Judge Hunt: Danielle Kennedy. Judge Jeffries: Charles Robinson. Rosa: Doralicia. Computer Expert: Caroline Fogarty. CSI Miles: Joseph Buttler. Mrs. Skinner: Crystina Wyler. District Attorney: Cheryl Carter. District Attorney Arnold Sullivan: Jeff Harlan. Officer Jones: Marcuis Harris. Bailiff: Sean Scarborough. Big Daddy: Christian Eric Billings. And Kuma as Jesse.
• The Other Case: A woman claims that McBride's client, an Asian man, stole her money at an ATM machine. The woman definitely identifies the man sitting between Mac and Phil as the man who robbed her, but Mac's client is actually sitting in the courtroom. It is another Asian man, Mr. Kim, assistant to Mac's accountant, that the woman has identified.
• Trivia: One of the running gags in this episode is that Judge Jeffries is tired of McBride's courtroom "shenanigans" and keeps declaring him in contempt of court. Jeffries is played by Charles Robinson, who was the amiable court baliff Mac in the series Night Court, in which John Larroquette played egotistical, skirt-chasing district attorney Dan Fielding. Captain's registered name is "Humorin' Harvest Moon." The Sinclairs' dog is a Briard; Judy Maxwell owns the dog's brother. Mac reads the magazine Fly Fishing. Phil has upgraded Mac's cell phone so he can get e-mail, surf the web and take photos.
• Whodunnit (highlight the line to see the spoiler): Sarah. She had recovered from her injuries and had wanted to get revenge on Laurie for her affair with her husband.
Requiem
• First aired May 31, 2008
• Writer: Rachel Stuhler
• Director: Mark Griffiths
• When talented but temperamental first violinist Ava Fletcher is found dead in her rehearsal room backstage at the symphony minutes before a concert, suspicion falls on her fiance, an out-of-work actor, especially when he says it was "his fault." (He was referring to having talked her into moving to Los Angeles, a place she hated.) Roberta phones McBride to help him, since the police chief is badgering her to make an arrest because Ava's father is an influential senator from Kansas. The crime scene provides an additional puzzle: why did Ava's killer take the time to put her precious Stradivarius back in its case?
• Cast: Ava Fletcher: Josie Davis. Carrie Deluca: Karis Campbell. Jackson Sumner: Tom Parker. Senator David Fletcher: Eric Pierpoint. Felicia Hart: Amanda Foreman. Celeste Clayton: Penelope Windust. Owen Grant: Ben Bodé. Goldstein (Conductor): Time Winters. Elizabeth Lucas: Mary Ellen Trainor. Hudson Lucas: Andy Umberger. CSI Lucy Jones: Louanne Sirota. Chief Watts: Garrett M. Brown. Judge Jeffries: Charles Robinson. Violinist: Laurie Casanova. District Attorney Arnold Sullivan: Jeff Harlan. Uniformed Officer: McKinley Freeman. Officer Jones: Marcuis Harris. Reporter: Julianna Robinson. And Kuma as Jesse.
• The Other Case: Surprise! There is none. The movie opens with Ava's murder.
• Trivia: Phil's parents (although he said his father was dead in a previous episode, apparently both his parents are very much alive) are patrons of the arts and contribute heavily to the symphony orchestra. Phil is wary of Chinese restaurants because he keeps getting empty fortune cookies. They are meeting at a pub called Shaffrey's.
• Whodunnit (highlight the line to see the spoiler): Owen. It was an accident; she pulled away from him when he declared his love and struck her head against the table.
§
Photos